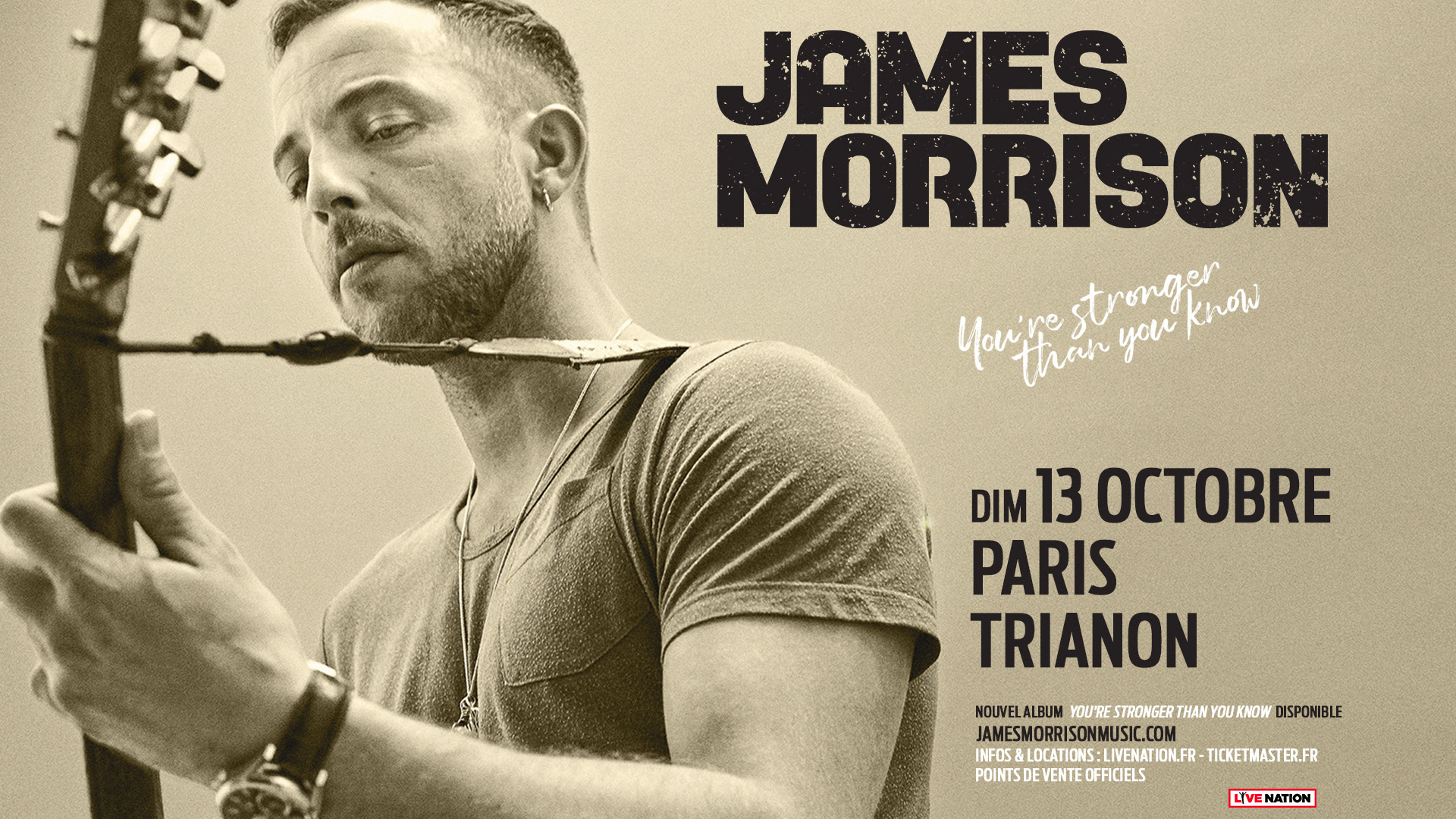 James Morrison est actuellement en tournée mondiale mondiale « You're stronger than you know – Tour 2019  » et il était hier soir au Trianon de Paris (Live Nation) !
Il a rencontré un énorme succès dès la sortie de son premier tube « You give me something » extrait de son premier album « Undiscovered » en 2006. Il était donc normal que le public français soit très nombreux pour cette unique date parisienne.
Le concert a démarré dans une excellente ambiance avec « Under the influence », les fans ont commencé à chanter et ils ont continué jusqu'au dernier titre. James a de suite mis le feu avec ses incontournables qu'on peut retrouver sur ses différents albums : « Songs for you, truths for me » (2008), « The awakening » (2011), « Higher than here » (2015) et du nouveau « You're stronger than you know » disponible depuis quelques mois.
Avec son charisme, sa générosité ainsi que sa voix d'une grande puissance, il nous a fait frissonner avec ses magnifiques ballades et nous a fait bouger avec ses morceaux soul & pop. Nous avons évidemment eu droit à ses plus gros tubes comme « Broken strings » (le public et sa choriste ont remplacé Nelly Furtado) et à une sublime reprise de « With a little help from my friends » des Beatles.
Il faisait chaud dans la salle mais James ne s'est pas arrêté et a fait le show durant 1h30. Le concert s'est terminé avec « You give me something » que tout le monde attendait. Pour le rappel, il nous a offert 3 titres, « You make it real », « Slowly » et son autre tube « Wonderful world ».
Avant de quitter la scène, James Morrison a demander à son public de continuer de rêver et de rire, et il a promis qu'il reviendrait le plus vite possible.
Voici la setlist :
Under the influence
Nothing ever hurt like you
Feels like the first time
Undiscovered
Power
I won't let you go
I still need you
Cross the line
With a little help from my friends
Broken strings
So beautiful
If you don't wanna love me
My loves goes on
Glorious
You give me something
You make it real
Slowly
Wonderful world