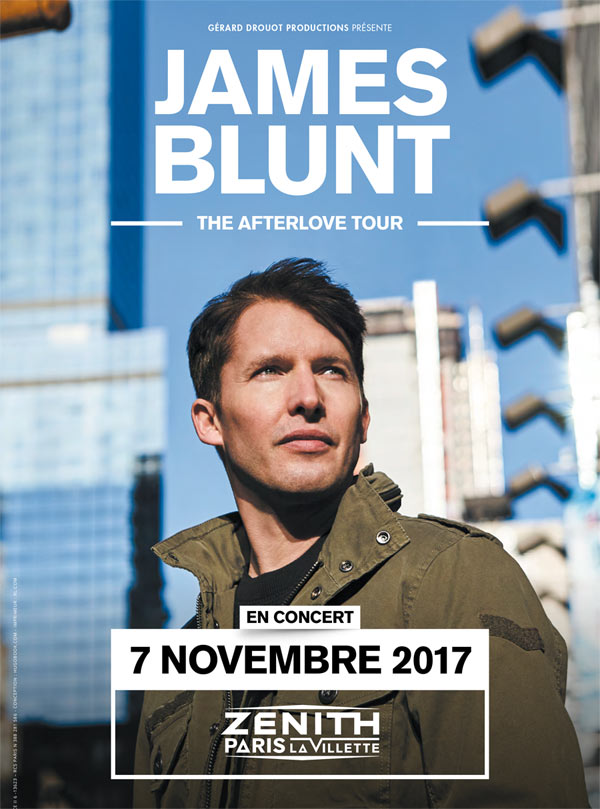 Dans le cadre de sa nouvelle tournée « The afterlove tour », James Blunt était hier soir au Zénith de Paris !
Comme à chaque fois le public a répondu présent et c'est le talentueux Jamie Lawson qui était en première partie pour le faire patienter avec ses belles chansons.
Puis, James Blunt a fait son entrée sur scène avec le titre « Heart to heart ». Il a en effet, interprété ses différents tubes extraits de ses albums, « Back to Bedlam » (2004), « All the lost souls » (2007), « Some kind of trouble » (2010), « Moon landing » (2013) et du dernier en date « The afterlove » (2017). Il faut dire que depuis ses débuts il collectionne les succès, et c'est un régal de les redécouvrir en live !
« Goodbye my lover », « High », « Same mistake » (sa préférée) et bien entendu « You're beautiful », les fans de la première heure ont été gâtés ! Son nouvel opus contient aussi d'excellents titres pour le live et nous avons été conquis par « Heartbeat », « Time of our lives », « Someone singing alone » ou encore « Make me better » qu'il a co-écrit avec Ed Sheeran.
Juste avant le rappel, le Zénith a tremblé avec le dansant « OK » et le show s'est terminé avec « Don't give me those eyes », « Stay the night », « 1973 » et « Bonfire heart ».
James Blunt a mis une excellente ambiance durant tout son spectacle, il avait beaucoup d'humour et son accent français était trop mignon. Nous avons également eu droit à plusieurs anecdotes concernant sa vie et ses différentes collaborations.
Le public connaissait toutes les chansons sur le bout des doigts, et il lui a offert une slave d'applaudissements avant de quitter la salle.
Pour revoir le clip de « Don't give me those eyes » :