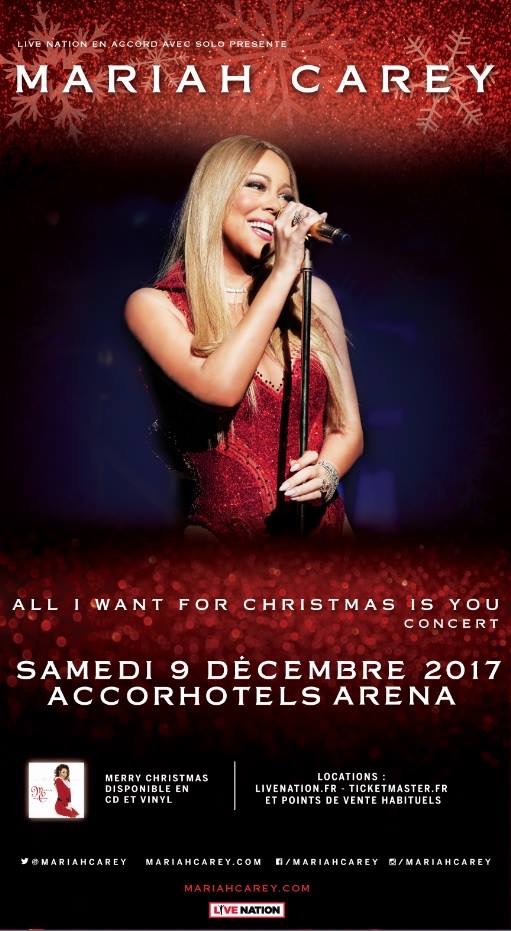 Après s'être produite devant un public ébloui à New York et une résidence à Las Vegas, c'est au tour de la France de découvrir la tournée « All I want for Christmas is you » ! En effet, Mariah Carey était hier soir en concert à l'AccorHotels Arena de Paris !
La star est venue présenter un très beau spectacle afin de fêter Noël avec ses fans français. Nous avons eu droit aux jolies chansons extraites de ses deux albums de Noël : « Merry Christmas » (1994) et « Merry Christmas II you » (2010). Mais avant de rentrer dans le vif du sujet, Mariah Carey a rendu un bel hommage à Johnny Hallyday en reprenant le refrain du titre « Que je t'aime » : « I just wanna say great musicians never die ».
Le public était debout durant tout le concert et l'ambiance était magique !
« Charlie Brown Christmas », « Oh Santa ! », « Silent night », « Joy to the world » ou encore « Christmas time is in the air »… Nous nous sommes crus en Laponie avec le Père Noël et avec Mariah dans le rôle de la Mère Noël.
Pour le plus grand plaisir de son fidèle public, la Diva a aussi interprété quelques incontournables de son répertoire : « Emotions », « We belong together », « The star » et « Hero ». Mariah Carey a fait trembler l'AccorHotels Arena avec ses 5 octaves !
Ce magnifique show s'est terminé en beauté avec « All I want for Christmas is you », et nous vous proposons de redécouvrir le clip :