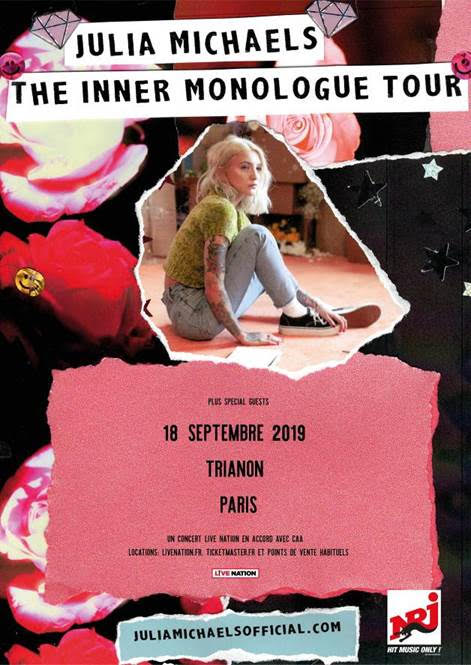 Dès l'âge de 16 ans, avant même de se lancer sur scène, Julia Michaels co-écrit des morceaux pour de nombreux artistes. Parmi eux, Selena Gomez avec « Bad liar », Ed Sheeran avec « Dive », Demi Lovato avec « Fire starter » ou encore Justin Bieber avec « Sorry ».
Son premier single « Issues » atteint la place #11 au Billboard Hot 100 aux Etats-Unis pour une durée de 18 semaines. Celui-ci, en plus d'être certifié triple-platinum par la R.I.A.A, lui permet d'être nommée dans deux catégories de la prestigieuse cérémonie des Grammy Awards : « Song of the Year » et « Best New Artist ». Son premier EP, « Nervous System » sorti en 2017, lui permet d'atteindre la place #48 au Billboard 200 ainsi qu'une nomination dans différentes catégories des « MTV Music Video », du « Billboard Music » mais aussi des « American Music Awards ». Et c'est sans compter sur les 10 milliards de streams comptabilisés à travers le monde !
Après des premières parties prestigieuses (Shawn Mendes, Niall Horan, Maroon 5, Keith Urban et actuellement P!nk), la nouvelle sensation pop américaine partira en tournée mondiale « Inner Monologue Tour ». Elle se produira le 18 septembre 2019 au Trianon de Paris (Live Nation) et la billetterie ouvrira le vendredi 15 mars à10h !
Pour revoir le clip de son tube « Issues » :